Happy Friday! I'm taking a break from the guest posts to bring you my favorite nail looks of May 2013. I have been missing blogging this past week...I guess you never know how much you love something until it's gone. I am thankful for all of the guest posts I have received from my blogger friends, but I am sure excited to get back into it. It feels like there is a big hole in my life right now:(
You may or may not know, I share my favorite nail looks each month throughout the year. These are my favorites this month with links to the original post. I had a fun month with nail polish. I was able to try some new ones that I ended up loving as well as bring back some oldies, but goodies. Enjoy!
I hope you enjoyed my favorites as much as I did. If you post a monthly favorites on your blog, feel free to share a link to them in the comments below.
I have some more guest posts scheduled for the next few days and then hopefully I can get back on the saddle and BLOG! I miss you...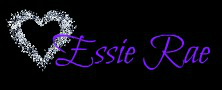 Join the Blogger Linkup! Open to everyone:)