I'm sure you are filing through all of the Joe Guidice inspired manicures online, so thanks for choosing mine!
Let me start by confessing that I am a BIG reality show junky. When I say BIG, I mean HUGE. Reality tv brings so much excitement and happiness to my life. From Real Housewives of Everywhere, to MTV's Real World, to Jersey Shore, to Teen Mom - I do not discriminate. I don't know what it is about reality tv, but it is so entertaining. After I put the kids to bed each night, I settle in on the couch and make my way through all of the reality shows I have on my DVR. If there aren't any new ones, I have no problem watching "reruns" (is that still a valid term?). Lots of my favorite channels run marathons of reality shows and since I have my DVR set to tape (is "tape" correct?) new and repeats, it catches those marathons. I think I have about 25 Real Housewives of New Yorks that date back to season 1 waiting for me to watch.
Let's get to how this manicure was inspired by Joe Guidice (Teresa's Husband on RHW of NJ). I was watching the reunion show the other night (very intense btw) and I couldn't help but notice Joe's button shirt. It was a light grey with a plum purple band on the inside of the collar.
Here is a still shot of him with the inspirational shirt
. I love this shirt and would love to find one for my husband. I'm not sure if he would wear it though...
The grey is lighter, but I decided to use one of my favorite greys of all time - Pure Ice Kiss Me Here. The plum color is from Ulta and is called Plum Perfect. Plum Perfect is still available at Ulta; however, it's in the new packaging. Ulta polishes are 3 for $9 right now and always seem to be on sale. I love the formula of both of these polishes and love the look of these colors together. I'm looking forward to receiving the new grey polish I just ordered - NARS Storm Bird. Thanks to Liesl, at Liesl Loves Pretty Things, for introducing me to it - she has a great swatch
here
.
You can always find cool nail colors and combinations by paying attention to what is going on around you...and yes, even by watching reality tv:)
Do you love reality tv as much as I do? If so, what's your favorite show?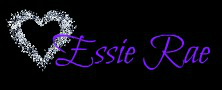 Join the Friday Linkup - click below.